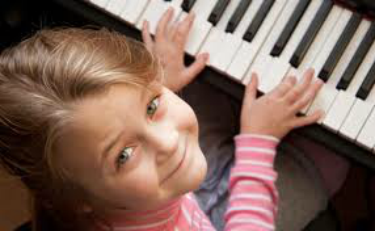 "I wish I hadn't learned to play the piano,"
said no one ever.
Choosing a Piano Teacher
Choosing a piano teacher through a friend's recommendation or a pianist you may know is a good start, but don't stop there. Interview the piano teacher, ask specific questions, and perhaps set up a sample piano lesson (some piano teachers might be willing to provide a trial piano lesson at no charge). It is to your advantage to meet the piano teacher, visit the studio (if the piano teacher has one), and find out the piano teacher's style, policies, fees, and expectations. It is much better to know all of this up front before your first piano lesson than to be "surprised" later on. Interview several piano teachers until you find the best fit for you or your child. Be wary of a piano teacher that seems overly anxious to sign you up and less interested in providing the best possible piano lesson experience for the student.

Piano teachers are professionals and should be treated as such. A skilled piano teacher is a highly qualified and trained instructor. Some piano teachers use computers and specialized software programs to augment the hands-on piano lessons. Today, it is common for piano teachers to have a degree in music such as a Bachelor of Music Education (BMusEd) degree. A piano teacher possessing a Master of Fine Arts (MFA) degree has completed a two year graduate program in the arts.

A desirable quality to look for in a piano teacher is someone who is actively involved in your community's musical events and activities, as well as someone who maintains an active membership in professional organizations such as:

California Association of Professional Music Teachers (CAPMT)

Music Teachers' Association of California (MTAC)

Music Teachers National Association (MTNA)

Nationally Certified Teacher of Music (NCTM)

National Guild of Piano Teachers (NGPT)

Suzuki Association of the Americas (SAA)


Before you begin your search, prepare a list of questions that you might want to ask a prospective piano teacher during an interview. The goal is to find the best fit for the student and the piano teacher. Spending time up front to find the right piano teacher will help assure a positive, healthy musical learning experience and a student-teacher relationship that will last.
Benefits of Piano Lessons
"Piano lessons have been shown to improve a child's performance in school. After eight months of piano lessons, preschoolers tested showed a 46 percent boost in their spatial IQ, which is crucial for higher brain functions such as complex mathematics." - Frances Rauscher, Ph.D., Gordon Shaw, Ph.D., University of California, Irvine.
Music Performance and Test Scores
"Students with coursework/experience in music performance scored 51 points higher on the verbal portion of the SAT and 39 points higher on the math portion of the SAT than students with no coursework or experience in the arts." - Profiles of SAT and Achievement Test Takers, The College Board, compiled by the Music Educators National Conference (MENC), 1995.
The "Mozart Effect" and Piano Lessons
"Mozart's Piano Sonata K448 was found to significantly increase spatial scores of college students on IQ tests when the Sonata was listened to for 10 minutes, dubbed the 'Mozart Effect.'" - From Nature, copyright 1993, Drs. Rauscher and Shaw, University of California, Irvine.