John's passion for the piano began at the age of eight when he started piano lessons on a Musette spinet player piano. John continued lessons into high school being classically trained.
At the age of sixteen John purchased his own piano, a remarkable 1878 Ernest Gabler & Brother upright piano. It was after acquiring this piano that John developed a keen interest in the inner workings, acoustical designs, and mechanical aspects of pianos and keyboard instruments. Ultimately, the Ernest Gabler & Brother upright was completely restored and to this day remains in John's family.
In 1984 John graduated from California State Polytechnic University, cum laude, with a Bachelor of Science degree in Electrical Engineering, further expanding John's exceptional analytical and diagnostic skills.
John enrolled in the Randy Potter School of Piano Technology, a two year course licensed by the Department of Education, graduating with highest honors in 1993. In 1994, John completed the one week Advanced Training Seminar in Piano Technology at Baylor University School of Music, Waco, TX.
In 1997 John completed the rigorous Piano Technicians Guild (PTG) exams at Long Beach State University to earn the credential of Registered Piano Technician (RPT) and has remained an active RPT ever since.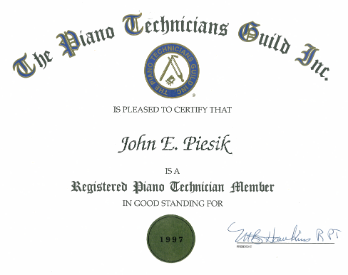 John is a Dampp-Chaser Certified Installer of the Piano Life Saver System by the Dampp-Chaser Corporation, providing superior protection and tuning stability for your piano.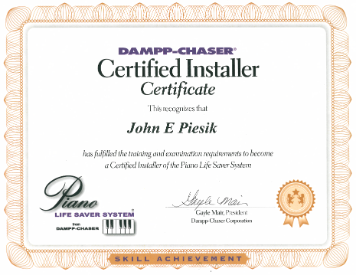 John is a Master Piano Technician (MPT) and member of the Master Piano Technicians of America, an international organization of piano technicians whose goal is to advance the highest standards of technical proficiency in the piano service field.
John has attended numerous training courses and seminars (presented by Steinway, Yamaha, Kawai, Bösendorfer, Dampp-Chaser and other leaders in the piano industry), California PTG State Conventions, and PTG National Conventions in order to remain on top of the latest advances in piano technology and to provide the best possible service to his clients.
John is an active member of the Piano Technicians Guild local chapter and has held the offices of secretary and treasurer. PTG chapters meet monthly providing a forum to share techniques, meet with piano manufacturers, and learn from other industry experts.
In addition to classical, jazz, and Ragtime piano John also enjoys playing the bass. Favorite pastimes include hiking, fishing, astronomy, westerns, and spending time with his family and grandkids. John attends North Coast Church in Vista, CA and has been a San Diego North County resident since 1989.